Product v/s Service: Which one is the real deal?
With analytics and especially market analytics gaining importance through the years, premier institutions in India have started offering market analytics as a certified course. Quite obviously, the global business market has a huge appetite for information analytics and big data.
While there may be a plethora of agents offering data extraction and management services, the industry is struggling to go beyond superficial and generic data-dump creation services. Enterprises today need more intelligent and insightful information.
The main concern with product-based models would be their incapability to extract and generate flexible and customizable data in terms of format. This shortcoming can be majorly attributed to the almost-mechanical process of the product- it works only within the limits and scope of the algorithm.
To place things into perspective, imagine you run an apparel enterprise. You receive two kinds of data files. One contains data about everything related to fashion- fashion magazines, famous fashion models, make-up brand searches, apparel brands trending and so on. On the other hand, the data is well segregated into trending apparel searches, apparel competitor strategies, fashion statements and so on. Which one would you prefer? Obviously, the second one- this is more relevant to you and will actually make life easier while drawing insights and taking strategic calls.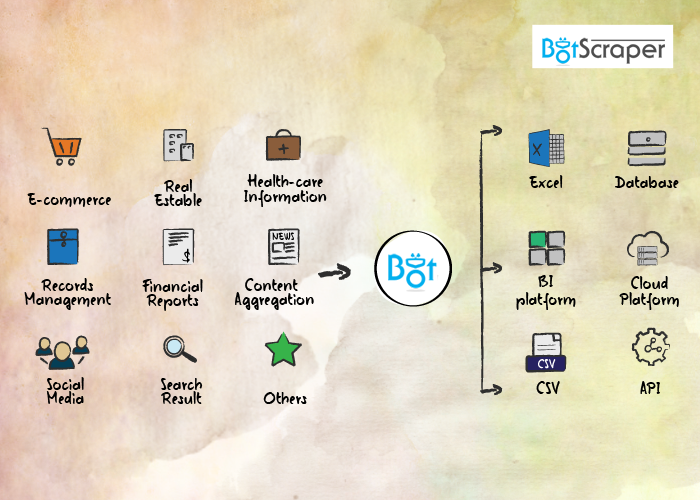 In the scenario where an enterprise wishes to cut down on overhead expenses and resources to clean the data and process it into meaningful information, that's when the heads turn towards service-based web extraction. The service-based model of web extraction has customization and ready-to-consume data as its key distinction feature.
Web extraction, in process parlance is a service that dives deep into the world of internet and fishes out the most relevant data and activities. Imagine a junkyard being thoroughly excavated and carefully scraped to find you the exact nuts, bolts and spares you need to build the best mechanical project. This is metaphorically what web extraction offers as a service.
The entire excavation process is objective and algorithmically driven. The process is carried out with a final motive of extracting meaningful data and processing it into insightful information. Though the algorithmic process leads to a major drawback of duplication, unlike a web extractor (product), wweb extraction as a service entails a de-duplication process to ensure that you are not loaded with redundant and junk data.
Of the most crucial factors, successive crawling is often ignored. Successive crawling refers to crawling certain web pages repetitively to fetch data. What makes this such a big deal? Unwelcomed successive crawling can lead to attracting the wrath of the site owners and the high probability of being sued for a class action suit.
While this is a very crucial concern with web scraping products , web extraction as a service takes care of all the internet ethics and code of conduct while respecting the politeness policies of web pages and permissible penetration depth limits.
Botscraper ensures that if a process is to be done, it might as well be done in a very legal and ethical manner. Botscraper uses world class technology to ensure that all web extraction processes are conducted with maximum efficacy while playing by the rules.
An important feature of the service model of web extraction is its capability to deal with complex site structures and focused extraction from multiple platforms. Web scraping as a service requires adhering to various fine-tuning processes. This is exactly what botscraper offers along with a highly competitive price structure and a high class of data quality.
While many product-based models tend to overlook the legal aspects of web extraction, data extraction from the web as a service covers it much more ingeniously. While associating with botscraper as web scraping service provider, legal problems should be the least of your worries.
Botscraper as a company and technology ensures that all politeness protocol, penetration limits, robots.txt and even the informal code of ethics is considered while extracting the most relevant data with high efficiency. Plagiarism and copyright concerns are dealt with utmost care and diligence at Botscraper.
The key takeaway would be that, product-based web extraction models may look appealing from a cost perspective- that too only at the face of it, but web extraction as a service is what will fetch maximum value to your analytical needs. Ranging right from flexibility, customization to legal coverage, web extraction services score above web extraction product and among the web extraction service provider fraternity, botscraper is definitely the preferred choice.