Quite often in life we are confused if we want to be a rich businessperson or a wealthy one. While both of it are used interchangeably, they are not really the same. However, the good fact of the matter is you can be any and one of the many keys lie in understanding data.
Understanding and utilizing data to enrich your strategic calls is one of the most common trends you will observe in the blooming business space. While data, in its raw form means almost nothing, information (processed data) can help you draw amazing insights towards crucial segments right from traction performance to competitor strategies.
Speaking of data, the most apparent synonyms are data scraping and web crawling. While these concepts may look similar at the face of it, there's more than just a fine line separating it. While both are equally essential, it is important to understand each of it distinctly to decide what suits you best and how should you go about with your data-fishing strategy.
Data scraping essentially refers to finding and scraping data. It is not necessary for data to be scraped or harvested only from the web. Data can be scraped from any data universe. This universe may even include a local spreadsheet consisting of various data or even a storage device consisting of different types of data. One point worth noting is that data scraping is not limited only to the internet and webpages. This is one reason, it is technically called as data scraping and not merely web scraping.
Data scraping is essential to filter and segregate raw data from various sources into meaningful and insightful information. Data scraping may include duplicate entries of data, cutting off the redundancy does not essentially form a part of data scraping.
Though inter-related, data scraping is superficially related to web crawling by limiting functions to just requesting and downloading data extracts. Data scraping may perform various functions that a good web crawl would not do otherwise. Examples include executing javascripts, submitting forms with data, disobeying robots.txt, etc.
Data scraping over the web needs elementary web crawling though.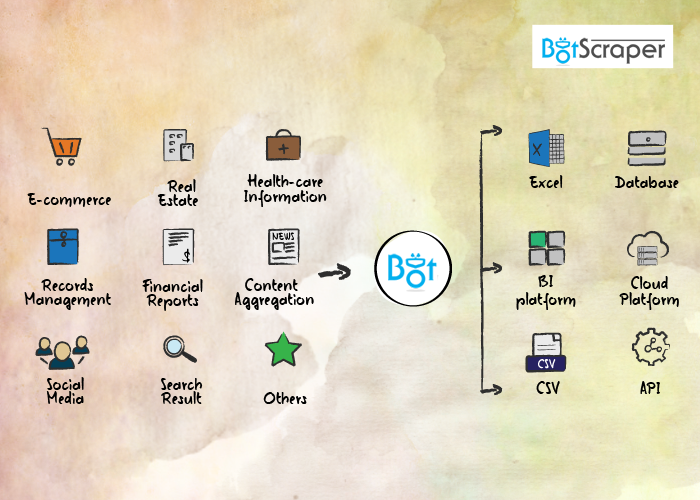 Web crawling refers to the process of fishing deep into the internet to fetch data. You can imagine a spider (bot) let loose to find its way into the trillion-ton of web data dump to fetch the most micro figments of relevant data even from the crevices of internet. These web spiders are algorithmically created to act in accordance with instruction and objectivity.
One problem that may arise include the fact that the web spiders may fetch duplicate data. Think of a single blog post reposted on several forums. The web spider is unfortunately yet to evolve to be smart enough to identify duplicate fetches. Web crawling activities usually ensue deduplication processes where the redundant data is filtered out of the fetched data set.
Of the most strenuous functions within data crawling, the process of successive crawling requires immense care and attention. Web pages usually have politeness policies to restrict the depth of permissible penetration for bots and web spiders. Any violation or forced penetration can ensue a legal class action lawsuit which can leave the instructor badly bruised. Special care is taken to ensure all web ethics and laws are abided by and maximum data is extracted without any sort of infringement.
Over the years, with the continuous sophistication of technology, web crawling service providers can offer much more developed and evolved spiders which understand permissible limits and operate efficiently within allowable bandwidth.
Different crawl agents are used to crawling different websites. One important case here is to ensure that such a clash does not arise during a web crawling process. However, the possibility of a problem arising out of such a scenario is a rare encounter.
For simplicity of the concept a straight distinction to the functions would be to understand that web crawling services are similar to the likes of what google and bing does, while data scraping services target specific websites to gain specific information (eg: fetching stock data from Yahoo! Finance).
To place things into perspective, data scraping services are extremely superficial and have a narrow scope of functions which can be done at any scale and from any source. On the other hand, web crawling as a service is pretty sophisticated and intricate in its functions. Web crawling requires to be done on a large scale and requires to adhere to various web ethics and laws.
It is best advised to understand your business needs and choose a service that suits your business best. We at BotScraper, are more than glad to help you decide and plan your data extraction strategy.